Love Your Spine Yoga Classes
An integrative approach to whole body wisdom, Love Your Spine Yoga Classes utilizes yoga therapy wisdom to help strengthen and care for hips and full spine. My intention for these classes is to give the community tools for Wellness Care.
~ Dr. Sheila R. Donnelly
Wellness Coach
Yoga Therapist
Doctor of Chiropractic
Dates and Location:
Next Workshop will be June 22nd, 2014 – Sunday 1:00 – 2:00 p.m. Must arrive 15 minutes early to check in and set up. RSVP required. Location: Square One Yoga Studio, 1225 Mac Arthur Blvd. San Leandro, CA 94577 – just a few short blocks away from my studio!
All Workshop Dates:
April 27th, 12:1 pm
May 18th, 1:2 pm
June 22nd, 1:2 pm
July 20th,  1:2 pm
RSVP Required. Sign Up early class size is limited:
Email Us or call (510) 798-0759
Please include your first and last name and phone number in your emailed RSVP.
Price:
Practice Members: $10. per class
General Public: $15. per class
Sign-up online and mention our website and you will receive 50% off!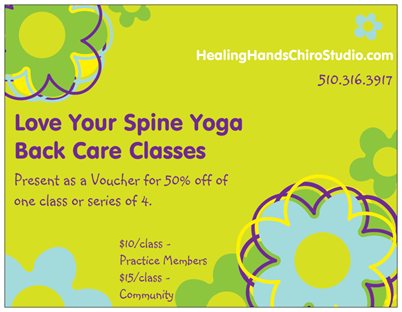 Be sure you print the coupon and bring it with you to class!